Maximize Performance of the Young Athlete
FitTrace introduces a scientific approach for youth athletes that is used at college and pro levels.
Utilizes DXA body composition technology to show fat and lean distribution in the body

Shows how training and nutrition affect the body

Allows for optimizing body composition for performance and health

Incorporates nutrition programs and consultations with experts from My Sports Dietitian
What is DXA?
A DXA scan breaks the body down into fat, lean, and bone and shows their distribution within the body. DXA technology is growing in use for monitoring body composition and is used in the NFL, NBA, Olympics and increasingly at the college level.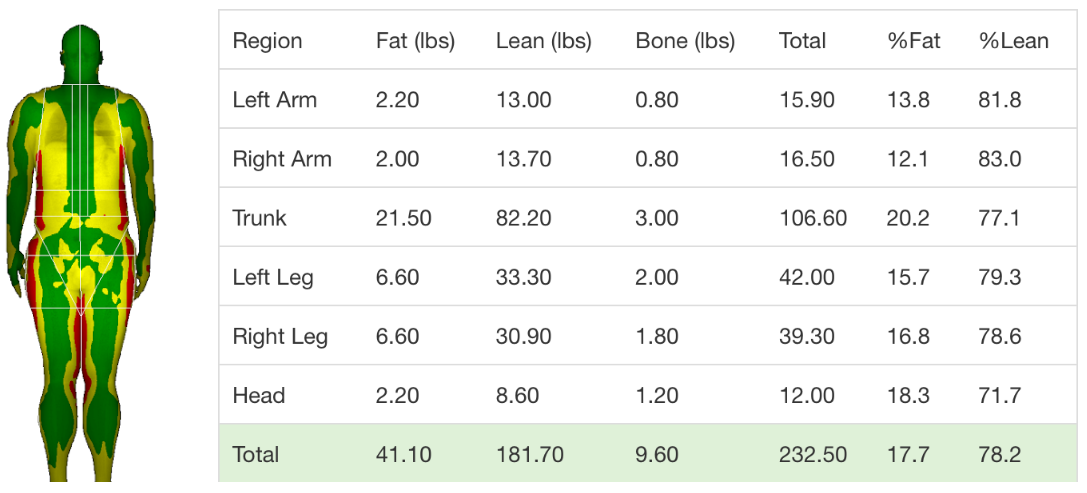 These following images show a reduction in fat and increase in muscle over time.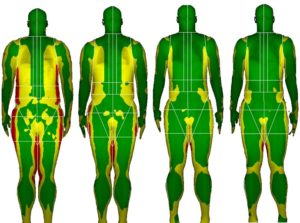 Green = low fat; Yellow = medium fat; Red = high fat
The use of DXA in athletics
Jackie Buell of Ohio State Sports Medicine on YouTube
Florida State University's use of DXA on YouTube
Green Bay Packers use DXA to assess their players in the Milwaukee Journal Sentinel
Too Much Fat?  Try A Whole Body Scan in the WSJ
What is FitTrace?
The FitTrace app captures DXA body composition scans and can be used to:
Track body composition over time

Compare with your friends and share on FaceBook

Share with a nutritionist, trainer or coach

Compare with professional NFL and rugby athletes (more sports coming soon)

An initial scan, or baseline, is useful over an athletic career for observing changes due to training and nutrition. It is also helpful in injury recovery.
The Latest Approach For Young Athletes
FitTrace has partnered with body composition testing centers and My Sports Dietitian to offer an affordable package to young athletes.  This state-of-the-art approach is based on science and is in use at college and professional athletic programs.
DXA Partners
FitTrace works with many DXA operators throughout the U.S. Check out our website for a list of DXA partners.  Let us know if you would like us to add a DXA partner near you.  
My Sports Dietitian
We are working with the nutrition and training experts at My Sports Dietitian (MSD). MSD focuses on providing practical sports nutrition education for athletes through the guidance and coaching of a licensed Sports Dietitian. They take a scientific approach to nutrition and provide a number of offerings from customized nutrition plans to one-on-one remote nutrition consulting to help athletes optimize performance, health, and recovery.
Contact Us
Reach us any time! We'll be happy to answer your questions and propose a package for you.
http://www.fittrace.com/contact-fittrace/
The FitTrace Team.