Body Composition is breaking the body down into its constituent components.  Two key components are fat and lean.
Still to this day, weight and body mass index (BMI) are common methods used to understand the relationship between health and body composition.  Much of this research is based on BMI alone.  However, because BMI is based solely on weight and height it is not ideal for understanding how body composition relates to health, wellness, and fitness.
Body composition measurements are not just for athletes.  They can be quite useful when applied to weight loss and the understanding of general health.
We, at FitTrace, are proponents of Dual-Energy X-Ray Absorptiometry (DXA) based body composition measurements.  A DXA scan: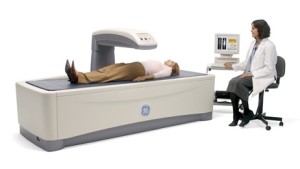 Provides more than just fat data. It also measures lean/muscle mass as well as bone.
Shows distribution of fat, lean and bone among arms, legs, and trunk.
Is highly consistent/reliable in its measurements.
Is fast, taking around ten minutes.
Is convenient and relaxing compared to other methods.
Due to its highly consistent and reliable measurements, DXA technology has been used in the research community for clinical and medical trials.  As a result, there is a great deal of scientific data available supporting the use of DXA for assessing body composition.  At FitTrace, we incorporate this data into our app.
The Five Reasons
Reason #1: Know Your Baseline Body Composition Measurements
Having a body composition scan early establishes a baseline.  Many years or even months later it may be useful to compare one's (baseline) first scan with a new (current) scan.  This could provide insights as to fitness as well as medical conditions.
Reason #2: Measuring Lifestyle Changes
Multiple body composition measurements can help the understanding of lifestyle changes.
The effect of nutritional changes, such as a diet, can be observed via changes in body composition measurements. Is that diet working as intended?  Is fat mass being lost as opposed to lean mass?  Much more can be gained from a DXA body composition measurements than from a scale.
Just as with a diet, a good way to measure effects of a new training program is by observing changes in lean and fat throughout the body with a DXA scan.
Many gadgets are available today to measure one's level of activity and track eating habits.  A body composition scan is an excellent method for measuring the impact of these tools.
Reason #3: Performance/Training Tuning
Fitness buffs, weekend warriors, and high performance athletes want to enhance their performance and training sessions. Body composition can be tuned for specific activities and sports.  With the FitTrace app, one can compare their body composition with certain benchmarks – such as professional football (NFL) players and rugby players. The app is being updated constantly with data from different types of sports and athletes.
Reason #4: Understanding Chronic Disease
Body composition can provide a better idea of the risk of chronic disease.  Much of the current research is based on BMI.  However, new research is incorporating body composition data.  The FitTrace app includes recent prediction equations which show the risk of some chronic diseases based on body composition data.
Reason #5: One More Data Point
As we all try to understand the numerous aspects of our health, fitness, and performance, a body composition scan is another data point and link in the chain.  With emerging technologies, we are now starting to collect a wealth of information about ourselves – activity, calories, and health measurements.  A DXA body composition scan is one more data point representative of a key aspect of health.
Conclusions
Everyone can benefit from knowing their body composition measurements and it can be useful to track over time.  The athlete, dieter, and weekend warrior will gain greater understanding of how their lifestyle affects their body.  The future holds great promise as more research on body composition reveals new insights.
About FitTrace
FitTrace develops the FitTrace app.  The Basic App is free and allows users to store their body composition data and provides for basic reporting.  The Premium App is offered on a subscription basis and provides for sharing of data, comparing, and advanced reporting.
https://www.fittrace.com/wp-content/uploads/2015/10/body-comp.jpg
1250
2500
Mike Dichiappari
https://www.fittrace.com/wp-content/uploads/2015/10/logo-very-very-large-4-transparent-shadow-300x89.png
Mike Dichiappari
2015-10-15 19:40:17
2016-12-22 18:20:13
5 REASONS TO HAVE BODY COMPOSITION MEASUREMENTS DONE.