It's always disappointing when we don't see the results that we want when we first set off on our weight-loss journey. We've all had that moment when we stare in front of a full body mirror, after working our butts off at the gym for two weeks and see little, to no result. Or we step on the scale to see that we haven't lost a pound, or worse that we've actually gained weight!
That's the moment when we start to doubt. Doubt our training, our dedication and decisions, our diet, our genes, the list goes on. Then, after the moment of doubt, comes the moment of self-pity which is usually accompanied by a tub of ice cream or a bucket of spicy chicken wings and before you know it, you're back to square one. But, unbeknownst to many, those two weeks you spent sweating over those weights or on that treadmill has actually done wonders for your body, and you just can't see it yet… BUT, now you can, with the help of a DEXA Scan!
Let's get to know more about this game changing (and peace-of-mind giving) machine with the help from the awesome staff of Composition ID, where the experts use the DEXA scanner to help the fitness newbies, athletes, gym buffs, body builders and the like improve on their training and stay up to date on their current fitness status.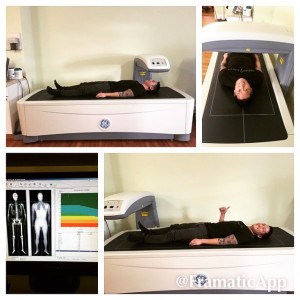 Dual Energy X-Ray Absorptiometry, or DEXA (DXA), is a machine that uses a very low dose x-ray which passes over the body to calculate and separate the densities of fat mass, lean mass and bone mineral content in the bones.
Now get this, having a DEXA scan is like having a literal, detailed and accurate snapshot of your body, broken down region by region including your arms, legs, trunk, android and gynoid. You can even compare your left vs right side legs, arms and trunk regions to determine muscle or fat imbalances.
All this technology comes with a very simple process that requires no dietary restrictions nor does it require the removal of clothing. You just lie down for a 6 min scan and come out with the most accurate report detailing over 50 personalized data points in your body.
It'll tell how much fat, muscle and bone mass there is in the different parts of your body that will help our experts measure you up with others your age. And it does all of this with pinpoint accuracy at about an error rate of only 1-2%! This helps the experts at Composition ID analyze your data and make the best recommendations for you on how to move forward with your fitness and training goals.
Since we are able to measure precisely how many pounds of muscle you've gained versus the amount of fat you've lost in your body, only a DEXA scan will tell you how over time how important those 30-minute runs were, or what a good decision it was to enroll yourself to that spin cycle class twice a week! By seeing your changes over time, you'll be able to tweak your routine for the best results on your next DEXA scan. Now don't get me wrong, this scan isn't only for the athletes or the pros, it's for every body!
As a matter of fact, it pays off to have a DEXA scan early on during the start of any program so that you can track your progress and see if it's actually working for you. And, if you're that sentimental about it, you could collect those scans in a "fat loss journey journal" to inspire others as well! Seriously, no matter what shape you're in, a DEXA scan will help you keep up with your goals; be it muscle gain, fat loss, or bone health. And, using only a low dose of x-ray means you can have yourself scanned regularly to help you stay on course with your goals and make important changes to ensure you're consistently seeing results!
Keeping our eye on the prize is necessary to achieve any goal we set in life. And when it comes to being physically fit, we need all the help we can get. That's why getting a DEXA scan with Composition ID is a very good decision. By doing so, you'll not only give yourself a clearer view of what your body is made of or where you stand with your goals, but it also gives you the opportunity to discuss possible outcomes, get feedback and suggestions from a team of expert physiologists!
https://www.fittrace.com/wp-content/uploads/2015/10/x-ray-ok-300x300.jpg
300
300
Mike Dichiappari
https://www.fittrace.com/wp-content/uploads/2015/10/logo-very-very-large-4-transparent-shadow-300x89.png
Mike Dichiappari
2015-10-30 16:43:57
2016-12-22 18:19:55
BELIEVE THAT YOU CAN - AND GET A DEXA SCAN